I have an old pair of hareem trousers I bought about two years ago but they have seen better days. They are really comfy for lounging in and are perfect with a pair of flip flops for summer trips to the beach and I particularly love wearing them in France as lot's of French ladies seem to wear them.
So I have been on the look out for some for a while now and with my upcoming trip to France edging ever nearer I have been on serious hareem watch.
First I love these from
Next
, £22 isn't a bad price and I love the colour, perfect for chilling in.
Next these from
H&M
, they are only £12.99 and although they look baggier they come in some funky and slightly OTT colours and prints. I'd probably opt for plain black but there is a coral red and leopard print.
Next and a brand I have been following for years now, I love everything that
Hush
do. These trousers look so beautiful and it's probably the gorgeous blazers and t-shirts they team them up with that makes me want them more. These are a little more expensive at £49.50 but sometimes quality pays right.
And finally these from
Marks and Spencer
, super price at £18 and hopefully the quality you'd expect from Marks too.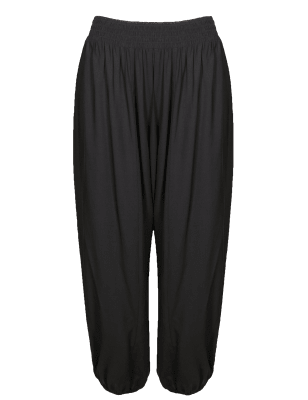 I'm not sure which pair to go for, but I definitely need to pop in to town and gab a pair before I go away either that or do I risk trying to find some in a French market whilst we are over there? Hmm decisions.